Jet2
2018-06-12 12:46 UTC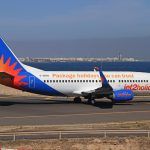 A Jet2 plane flying to Ibiza from Belfast was forced to make an unscheduled stop in Toulouse, France over a passenger's "disruptive" and "aggressive" drunken behaviour.
A passenger said the stag group were some of the last passengers to board the plane: "The captain introduced himself and gave a really stern warning and reiterated that only alcohol bought on board could be consumed on flight and duty free can't be consumed."
Jet2 said that the man's behaviour was "disgraceful and deplorable" due to the fact he had been "consuming alcohol illicitly".
Another passenger on board the plane tweeted that the man had a blow up doll with him on the flight – in front of young children.
See full article on Airlive.net