London
2018-02-13 08:54 UTC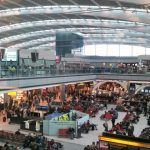 London's Heathrow Airport has apologised for a promotion at its duty-free stores that required Chinese shoppers to spend a higher amount than other travellers to enjoy a special discount.
Chinese travellers were asked to pay a minimum spend of £1,000 ($1,381) to receive a 20% discount, while other shoppers paid £250 to receive the same offer.
The unfair policy sparked outrage on social media after a Chinese student who worked at the store posted about it on China's widely-used microblog platform Weibo on Sunday. The post has been viewed over 10 million times.
A Heathrow spokesperson said: "We have been made aware of this offer which we find unacceptable.
"We are currently working with our commercial partner to understand how this happened and ensure it does not happen again."
See full article on Airlive.net