NEWS
2019-01-09 14:00 UTC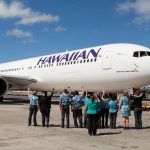 The Boeing 767 is no longer flying for Hawaiian Airlines, retiring after a run of more than 17 years at the carrier.
The airline's last 767 widebody was sent into retirement Monday after completing Hawaiian Airlines Flight 19 from Sacramento, California, to Honolulu.
The airline commemorated the retirement with a ceremony at the gate, where Hawaiian employees greeted the flight's 258 passengers and 10 crew with leis as they deplaned. Hawaiian adds that the aircraft – registration number N594HA – was given a traditional Hawaiian blessing after its arrival to Honolulu.
See full article on Airlive.net