BREAKING
2018-08-07 21:00 UTC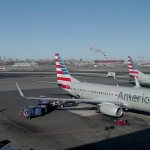 An under-developed fetus was discovered on an American Airlines flight at LaGuardia Airport.
After the flight arrived from Charlotte and passengers deplaned Monday night, the cleaning crew made the discovery in the bathroom Tuesday morning.
The plane was being held at Terminal B while the medical examiner's office spent several hours onboard the aircraft. The plane was later moved to an American Airlines hangar.
See full article on Airlive.net