NEWS
2019-01-10 08:59 UTC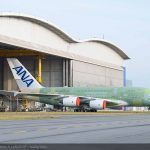 Airbus delivered 800 commercial aircraft to 93 customers in 2018, meeting its full year delivery guidance and setting a new company record.
Deliveries were 11% higher than the previous record of 718 units, set in 2017.
In total, the 2018 commercial aircraft deliveries comprise:
Airbus A220 (since it became part of the Airbus family in July 2018): 20
Airbus A320 Family: 626
Airbus A330: 49
Airbus A350 XWB: 93
Airbus A380: 12
The post Airbus delivered 800 planes in 2018 – full list appeared first on Aviation news and services.
See full article on Airlive.net