2018-02-02 13:45 UTC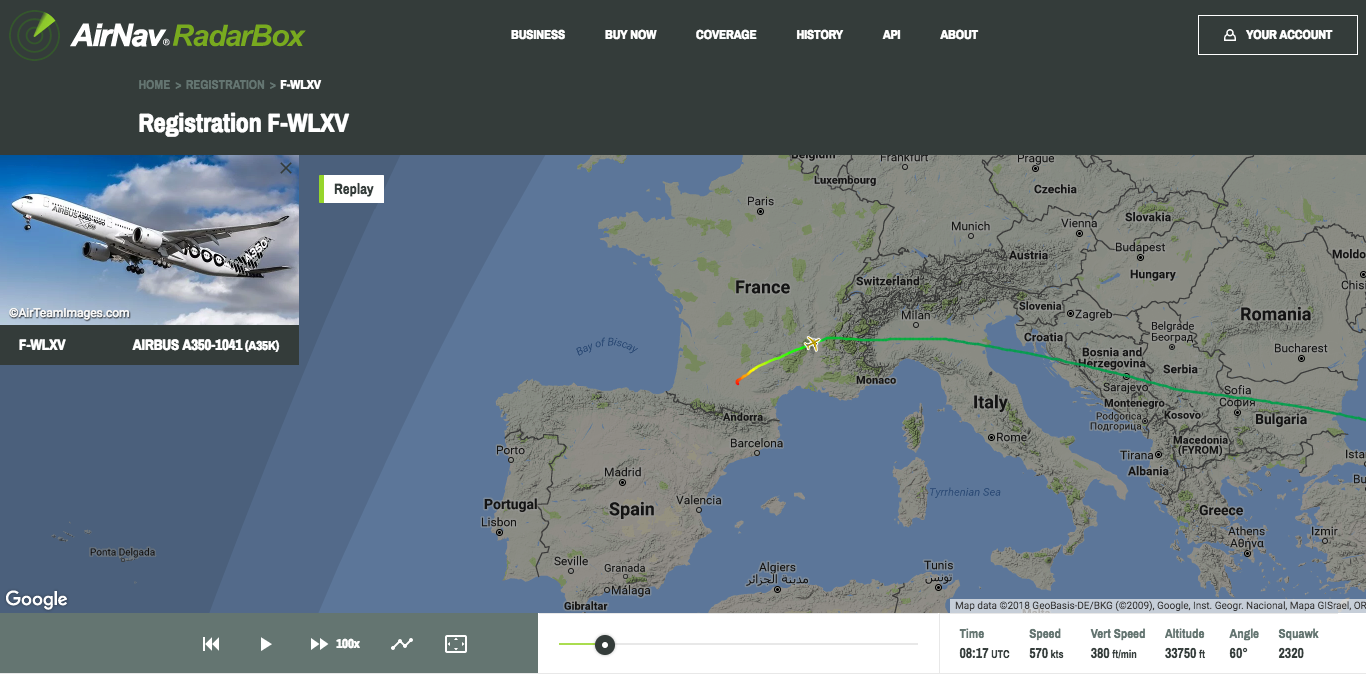 Friday 26 January 2018, the Airbus A350-1000 reg. F-WLXV (MSN065) took off from Toulouse at 07:53 UTC and landed in Doha 6 hours later.
Archive: https://www.radarbox24.com/data/registration/F-WLXV#624279234
This was the first leg of a three-week demonstration tour to the Middle East and Asia-Pacific region.

Middle East and Asia-Pacific tour
During the tour, the newly certified aircraft will stop in Doha, Muscat, Hong Kong, Seoul, Taipei, Hanoi, Singapore, Bangkok, Sydney, Auckland, Tokyo and Manila. A total of 30,000 nautical miles / 55,500 kilometers.
The aircraft will stop for several days in Singapore, where it will be on static display from 6 to 8 February at the Singapore Airshow 2018.

MSN065 is one of three Airbus A350-1000 test aircraft and is equipped with a fully functional cabin (40 business class, 36 economy plus class and 219 comfort economy class seats).

A350 family
Measuring nearly 74 metres from nose-to-tail, the A350-1000 is the longest-fuselage version of Airbus' all-new family of twin-aisle, widebody jetliners

The A350-1000 is the latest member of the A350 XWB Family with a longer fuselage to accommodate 40 more passengers than the A350-900 (in a typical three-class configuration). The A350-1000 also features a modified wing trailing-edge, new six-wheel main landing gears and more powerful Rolls-Royce Trent XWB-97 engines.



Delivery delayed
The delivery of Qatar Airways' first Airbus A350-1000 has been delayed until February 15-20 due to the "complex seat configuration" of the airline's business class, its chief executive said.

The major Middle East carrier is the launch customer of Europe's largest twin-engined passenger jet and was scheduled to receive its first of 37 on order last year.
To date, 11 customers from five continents have placed orders for a total of 169 A350-1000s.