2018-04-17 18:24 UTC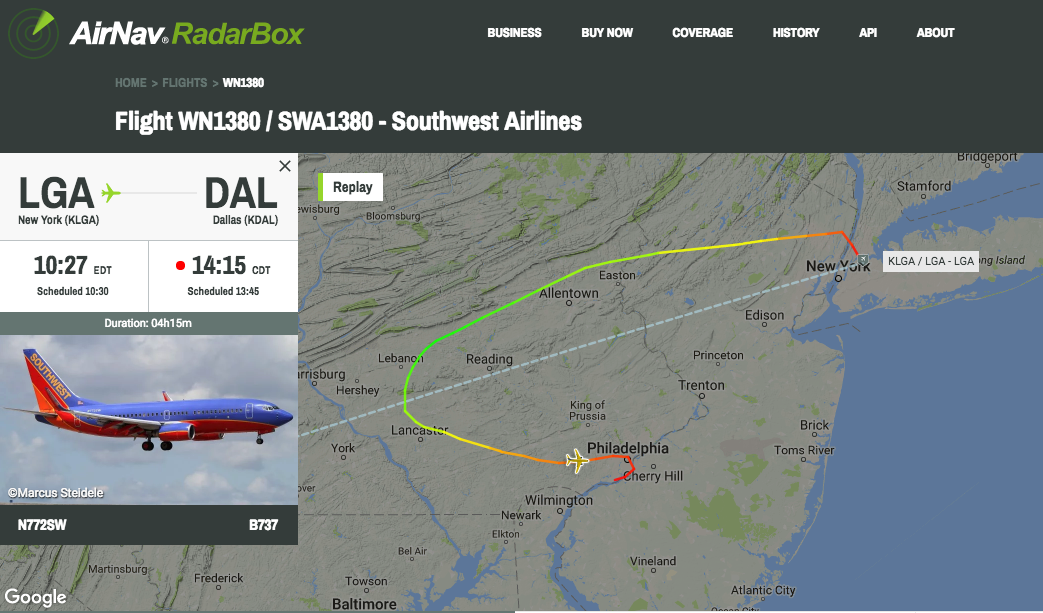 A Southwest Airlines flight was forced to execute an emergency landing in Philadelphia after part of its engine ripped off and damaged the jet. A woman was partially sucked out of the plane when the cabin rapidly depressurized.
Track the flight: https://www.radarbox24.com/data/flights/WN1380#743797210
Flight 1380 took off from LaGuardia Airport at 10.27am local time, bound for Dallas. Less than an hour later, the pilot of the Southwest aircraft was forced to take emergency action due to engine damage.
The airplane involved is a 17-year old Boeing 737-700 (registration N772SW), which carried 143 passengers and five crew members. Southwest says 'we are working diligently to support passengers and crew' from the affected f
Southwest statement:
We are aware that Southwest Flight #1380 from New York LaGuardia (LGA) to Dallas Love Field (DAL) has diverted to Philadelphia International Airport (PHL). We are in the process of transporting Customers and Crew into the terminal. The aircraft, a Boeing 737-700, has Customers and five Crewmembers onboard. We are in the process of gathering more information. Safety is always our top priority at Southwest Airlines, and we are working diligently to support our Customers and Crews at this time. We will share updates to the flight as they are confirmed.