Space, the final frontier...
We are announcing the live streaming of data
from our first space based ADS-B satellite!
The announcement happened during the 2018 European Business Aviation Convention & Exhibition (EBACE2018), the largest business aviation fair in Europe, happening in Geneva from May 29 to 31, that we are very proudly attending - if you are here please do come by booth Q109 and check out our satellite data feed.
The initial network of nano ADS-B satellites, built by GomSpace, Denmark, was launched in late 2017 and has successfully completed all tests with outstanding results. It is now ready to start feeding data into our platform. It is a great extension to our already extensive ADS-B network. This a huge leap forward in getting to 100% global coverage.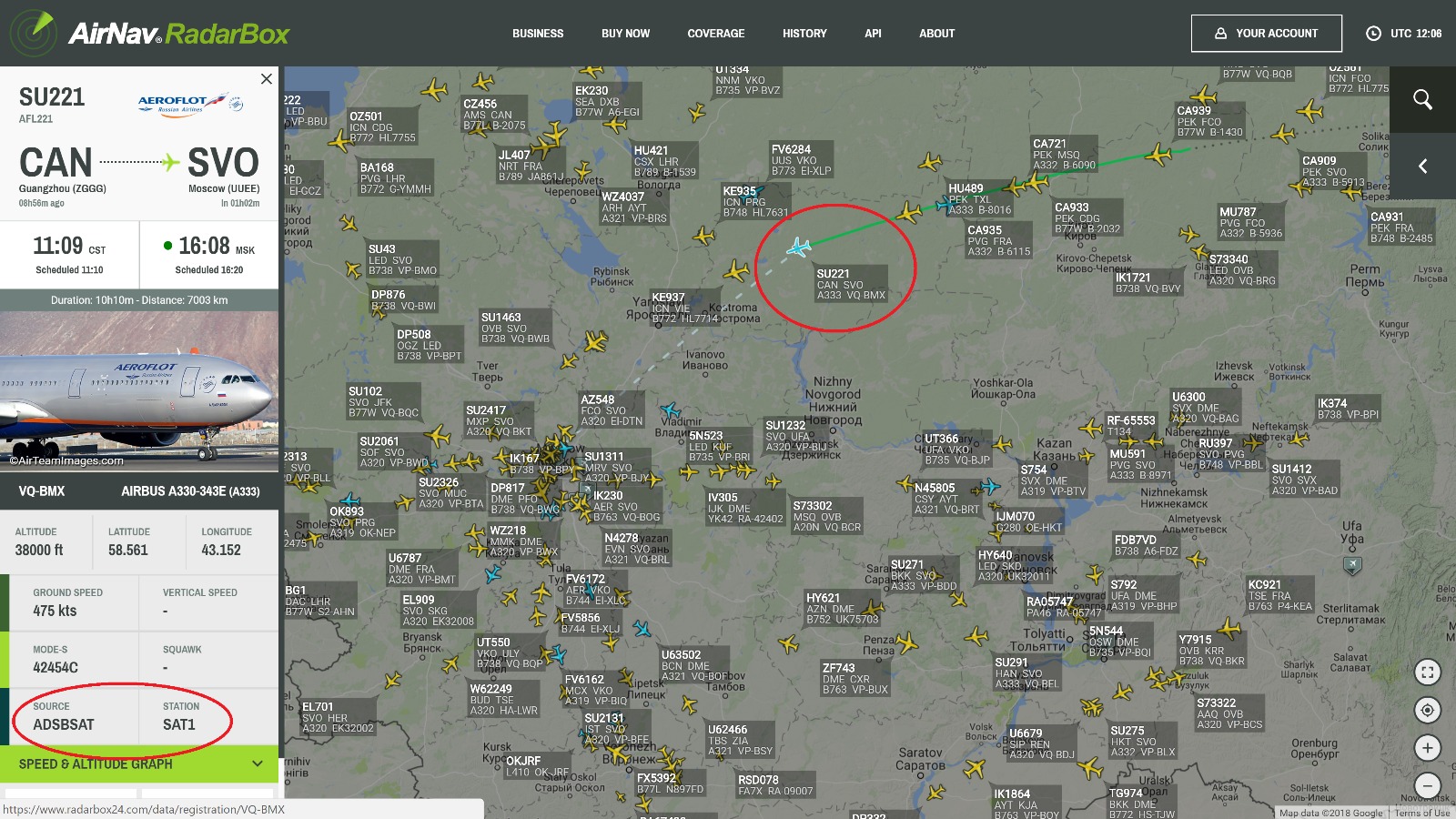 Seen above, an Aeroflot flight from Guangzhou, China to Moscow, Russia caught by our first satellite that was crossing the european continent at noon on May 30. This first nano-satellite will orbit the Earth and pass 3 times a day over Europe.
As you can see in the screenshot above, aircraft tracked from satellites in RadarBox will appear in blue and as being tracked by Source "ADSBSAT" and Station "SAT1". For now you can only see satellite tracked aircraft from time to time because we are starting with just one satellite. But very soon "blue planes" will start populating RadarBox' map all over as satellites are added, increasing our coverage, and making possible our goal of full global real-time flight tracking.
How does it work?

Space based ADS-B is one of the newest innovations in the industry, as it allows tracking of aircraft over extremely tough terrain, wide expanses of water bodies, and in places where ground-based ADS-B systems simply cannot get through. AirNav Systems' Space based ADS-B network uses data from receivers that are placed on nano-satellite constellations, enabling nonstop global air traffic tracking regardless of terrain, location or infrastructure. This global coverage nano-satellite network is unaffected by weather or other natural phenomena. Aircraft are not required to have any special equipment on board other than an ADS-B out transponder - the same required for the usual ground-based ADS-B.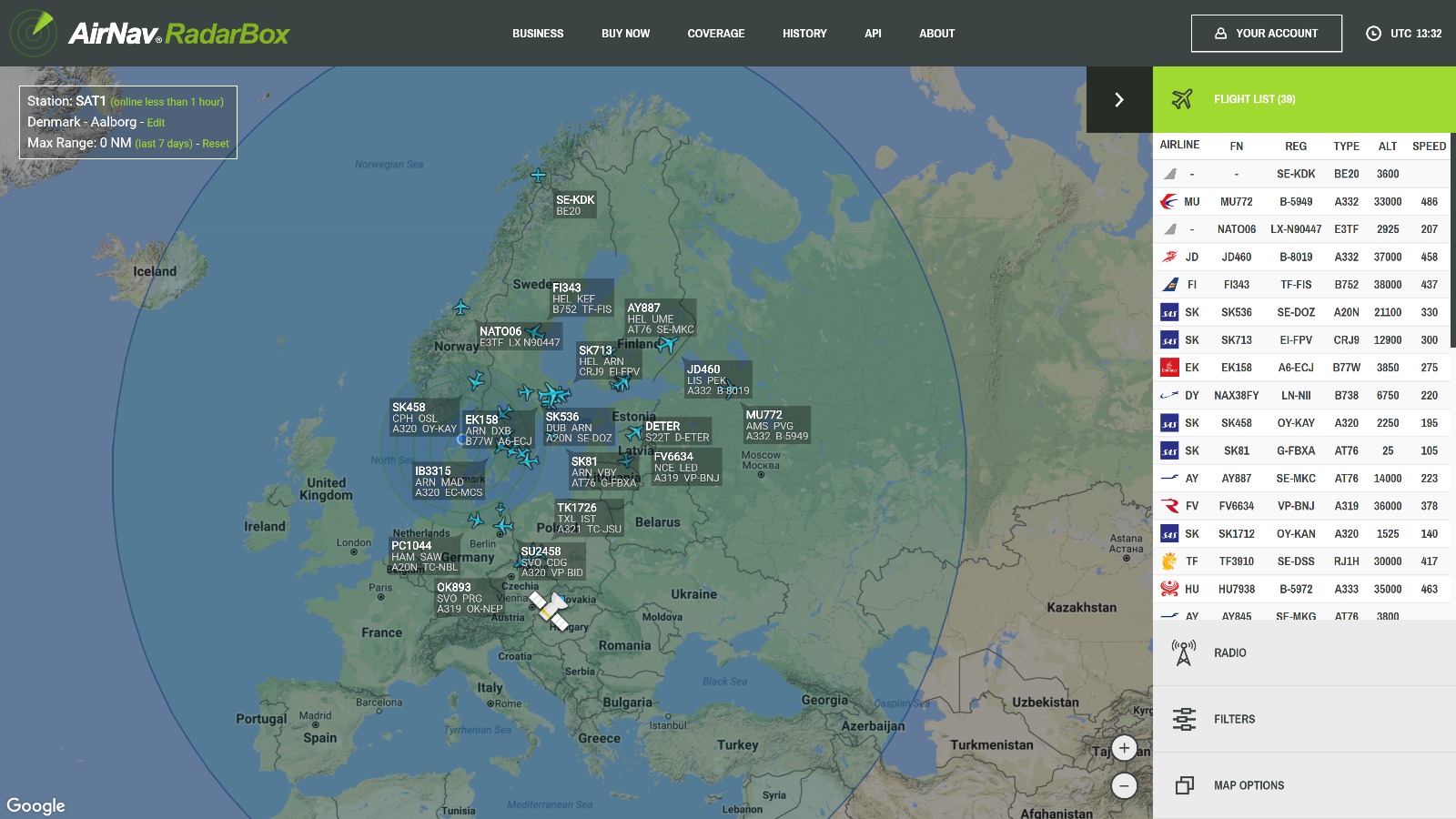 Above, Station "SAT1", our first of 88 nano-satellites that will provide coverage to the entire globe. The satellite icon represents the position of the satellite, the blue border the range of the satellite coverage, the blue dot in Denmark is the ground station that is receiving the data from the satellite and the blue planes are the flights tracked by the satellite. 
No special permission is required from the FAA or national & civil aviation regulators for this service. Customers who operate an aircraft or an aircraft fleet and are looking to be compliant with the mandatory FAA/ICAO/EASA flight tracking requirements that come into effect in the year 2020, can do so now with AirNav's ground and space ADS-B network service – RadarBox.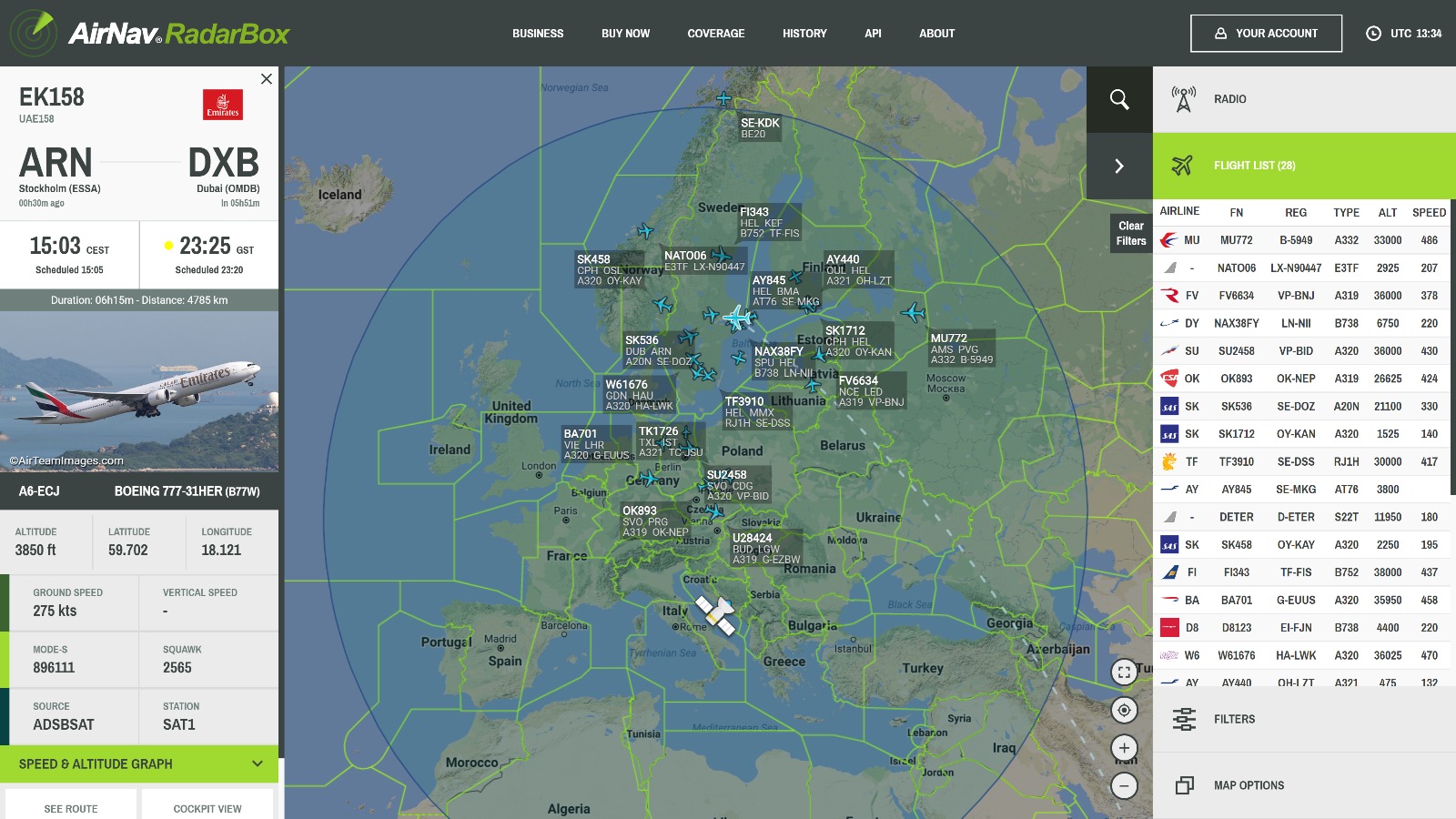 Satellite coverage across multiple Air Traffic Control boundaries. Also, Emirates Airlines flight EK158 from Stockholm, Sweden to Dubai, UAE crossing the Baltic Sea, an area where coverage isn't always optimal.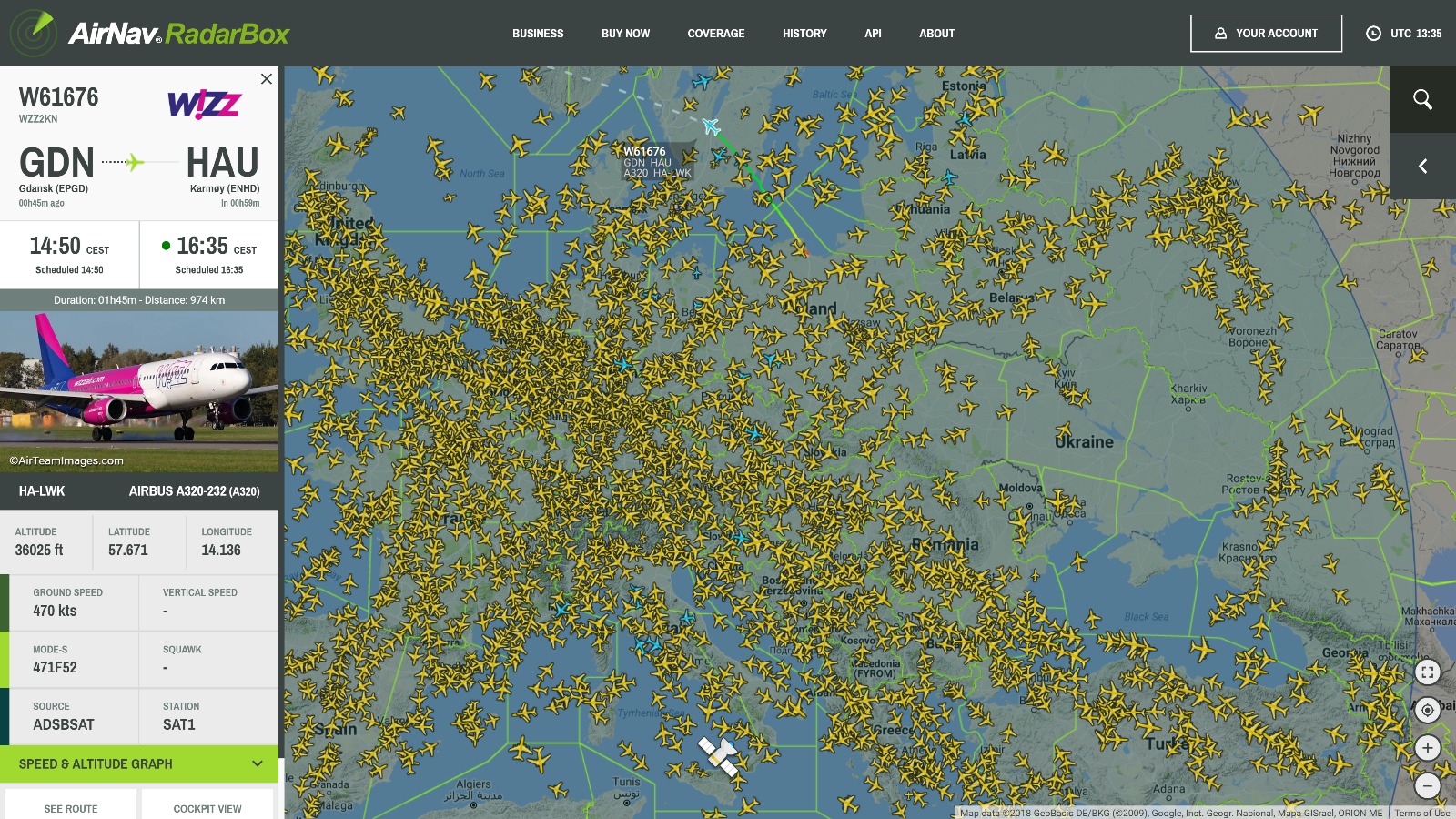 As you can see Wizz Air flight W61676 from Gdansk, Poland to Karmøy, Norway is one of the many flights that were already tracked via satellite in our platform. Number of fligths tracked via satellite will increase as more nano-satellites are added to the constellation.
And now what?
AirNav Systems will deploy more ADS-B nano-satellites - reaching a total of 88 - in the coming months which will improve the satellite coverage. Here is our timeline:
Q1 2019 - First Satellites Active 

Q2 2019 - Full Coverage between North 30 and South 30

Q3 2019 - Partial Polar Coverage

Q4 2019 - Full Worldwide Coverage (Space Based ADS-B)

About AirNav Systems
AirNav Systems is an industry pioneer with over 20 years of experience in the flight tracking industry.
AirNav Systems has a proven track record of providing affordable and reliable Flight Data & ADS-B tracking services to customers worldwide.
Government agencies, airlines and airports are some of the public and private sector clients that the company serves.
AirNav Systems also owns one of the largest ground based ADS-B networks in the world, boasting over 8000+ receivers in 140+ countries and processes over 25 million flight data messages per day.
RadarBox.com website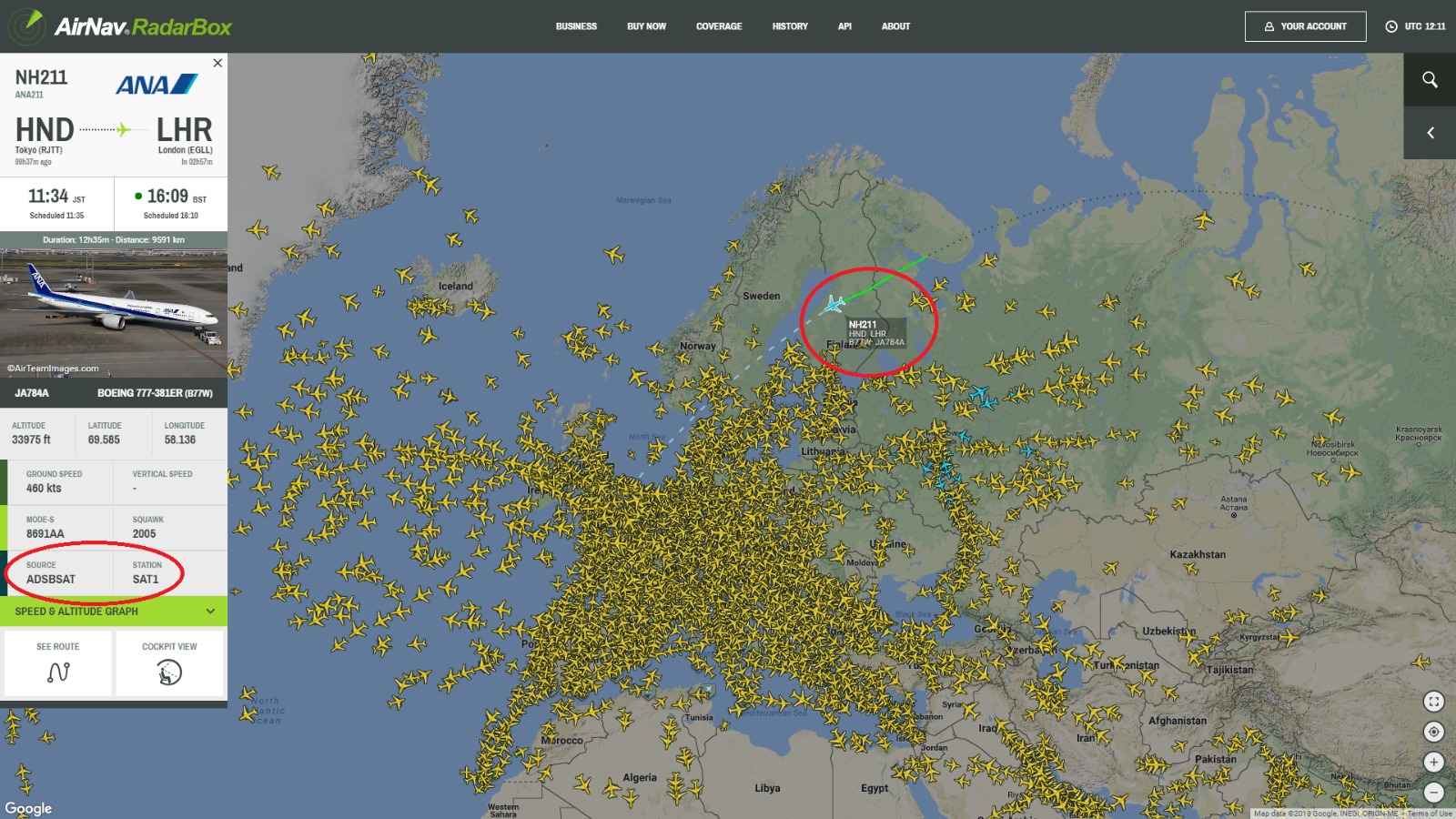 RadarBox customers receive real-time updates from 8 other flight data sources such as ADS-B, MLAT, FAA ASDI, Oceanic Reports, Flight Plans, SatCom ACARS, HFDL and now Satellite ADS-B. These services can be availed by purchase of Business Accounts available at www.RadarBox.com.